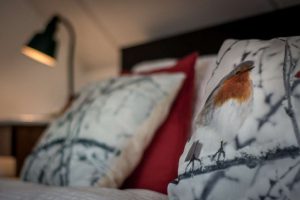 De prijs van ons Limburgse appartement Onger de Panne is € 89,00 per nacht voor 2 personen inclusief uitgebreid ontbijt en toeristenbelasting.
Een eventuele derde en vierde persoon die in het appartement verblijft, betaalt € 30,00 per persoon per nacht inclusief uitgebreid ontbijt en toeristenbelasting.
Een reservering kunt u op deze pagina plaatsen door het onderstaande formulier in te vullen en de gewenste data in de kalender te selecteren. De kalender geeft middels de kleuren aan of het appartement nog beschikbaar is op de door u gewenste datum. Het ingevulde formulier kunt u naar ons verzenden.
Wij sturen per mail een bericht om de reservering te bevestigen. De reservering wordt definitief als u een aanbetaling heeft betaald van € 30,00 per nacht. De resterende betaling graag bij aankomst te voldoen.
Uiteraard kunt u ook telefonisch bij ons reserveren.
In-checken kan bij ons vanaf 16.00 uur. Voor die tijd kunt u vanaf 12.00 uur uw auto parkeren of uw bagage afzetten.
Uit-checken graag vóór 11.00 uur, zodat we voor onze nieuwe gasten de kamer kunnen verzorgen.
Neemt u gerust telefonisch contact op om te overleggen over uw wensen en de mogelijkheden die wij u kunnen bieden.
B&B Onger de panne

1
1625097600
3
{"2015":{"6":{"13":"default","14":"default","15":"default","16":"default","17":"default","18":"default","19":"default","20":"default"},"7":{"16":"default","17":"default","18":"default","19":"default","20":"default","21":"default","22":"default","23":"default","24":"default","25":"default","26":"default","27":"default","28":"default","29":"default","30":"default","description-16":"","description-17":"","description-20":"","description-21":"","description-22":"","description-23":"","description-24":"","description-25":"","description-26":"","description-27":"","description-28":"","description-29":"","description-30":""},"8":{"1":"2","2":"3","5":"2","6":"3","7":"2","8":"3","9":"default","10":"default","14":"2","15":1,"16":1,"17":"3","18":"default","19":"2","20":1,"21":1,"22":1,"23":1,"24":1,"25":1,"26":1,"27":1,"28":"3","description-7":"","description-8":"","description-9":"","description-10":""},"9":{"19":"2","20":"3","27":"default","28":"default","29":"default","30":"default"},"10":{"16":"default","17":"default","18":"default","31":"2"},"11":{"1":"1","2":"3","14":"2","15":"3","21":"2","22":"3"}},"2016":{"2":{"7":"2","8":"1","9":"3","27":"2","28":"3","29":"2"},"3":{"1":1,"2":"3","19":"default","20":"default","29":"2","30":"1","31":"3"},"4":{"2":"2","3":"3","9":"2","10":"3","14":"2","15":"3","16":"2","17":"3","18":"2","19":1,"20":1,"21":"3","25":"2","26":"1","27":"1","28":"1","29":1,"30":"3"},"5":{"2":"2","3":"1","4":"3","9":"2","10":"1","11":"3","12":"default","13":"2","14":1,"15":"3","17":"2","18":"1","19":"1","20":"1","21":"1","22":"3","23":"2","24":"1","25":"3","28":"2","29":"3","30":"2","31":"1","description-13":""},"6":{"1":"1","2":"3","6":"2","7":"1","8":"3","9":"default","13":"2","14":"1","15":"1","16":"3","18":"2","19":"3","20":"2","21":"1","22":"1","23":"3","27":"default","28":"2","29":"1","30":"3"},"7":{"1":"2","2":"1","3":"3","5":"2","6":"1","7":"1","8":"3","9":"2","10":"3","11":"2","12":"3","13":"2","14":"1","15":"3","16":"default","17":"3","18":"2","19":"3","20":"2","21":"3","22":"2","23":"1","24":"3","26":"2","27":"3","description-16":""},"8":{"1":"2","2":"3","4":"2","5":"3","6":"default","7":"default","8":"2","9":"1","10":"1","11":"1","12":"2","13":"1","14":"3","15":"2","16":"1","17":"1","18":"1","19":"1","20":"1","21":"1","22":"1","23":"1","24":"1","25":"1","26":"1","27":"1","28":"1","29":"2","30":"1","31":"3"},"9":{"3":"2","4":"3","7":"2","8":"3","9":"default","12":"default","13":"default","14":"default","15":"default","16":"default","19":"2","20":"3","21":"2","22":"1","23":"3","25":"default","26":"2","27":"1","28":"3","29":"default","30":"2"},"10":{"1":"3","2":"default","3":"1","4":"1","5":"1","6":"1","7":"1","8":"1","9":"1","10":"1","11":"1","12":"1","13":"1","14":"1","15":"1","16":"1","21":"2","22":"3"},"11":{"11":"2","12":"3","25":"2","26":"1","27":"3"},"12":{"10":"2","11":"3","17":"2","18":"3","24":"2","25":"1","26":"1","27":"1","28":"1","29":"1","30":"1","31":"1"}},"2017":{"1":{"1":"1","21":"2","22":"3"},"2":{"8":"2","9":"1","10":"1","11":"1","12":"1","13":"1","19":"2","20":"1","21":"3","24":"2","25":"1","26":"1","27":"3"},"3":{"11":"2","12":"3","18":"default","19":"default","25":"2","26":"3"},"4":{"1":"2","2":"3","14":"2","15":"1","16":"1","17":"1","18":"3","28":"default","29":"default","30":"default"},"5":{"1":"2","2":"3","5":"2","6":"1","7":"1","8":"3","12":"2","13":"1","14":"3","19":"2","20":"1","21":"3","25":"2","26":"1","27":"1","28":"3"},"6":{"3":"2","4":"1","5":"3","16":"default","17":"default","23":"2","24":"1","25":"1","26":"3","30":"2"},"7":{"1":"1","2":"3","6":"2","7":"1","8":"1","9":"1","10":"3","11":"2","12":"1","13":"1","14":"1","15":"1","16":"3","21":"2","22":"1","23":"1","24":"1","25":"1","26":"1","27":"1","28":"1","29":"1","30":"1","31":"1"},"8":{"1":"1","2":"1","3":"1","4":"1","5":"1","6":"1","7":"3","12":"2","13":"3","14":"2","15":"1","16":"3","20":"default","21":"default","22":"default","23":"default","24":"default","25":"default","26":"2","27":"3"},"9":{"1":"2","2":"1","3":"3","7":"2","8":"1","9":"1","10":"1","11":"1","12":"1","13":"1","14":"1","15":"1","16":"1","17":"1","18":"1","19":"1","20":"1","21":"1","22":"1","23":"1","24":"3","27":"2","28":"1","29":"3"},"10":{"9":"default","10":"default","11":"default","17":"2","18":"1","19":"1","20":"3","23":"2","24":"3","27":"2","28":"1","29":"3"},"11":{"11":"2","12":"3","18":"2","19":"3","20":"2","21":"1","22":"1","23":"1","24":"1","25":"1","26":"1","27":"1","28":"1","29":"1","30":"1"},"12":{"1":"1","2":"1","3":"1","4":"1","5":"1","6":"1","7":"1","8":"1","9":"1","10":"1","11":"1","12":"1","13":"1","14":"1","15":"1","16":"1","17":"1","18":"1","19":"1","20":"1","21":"1","22":"1","23":"1","24":"1","25":"1","26":"1","27":"1","28":"1","29":"1","30":"1","31":"1"}},"2018":{"1":{"1":"1","2":"1","3":"1","4":"1","5":"1","6":"1","7":"1","8":"1","9":"1","10":"1","11":"1","12":"1","13":"1","14":"3","26":"2","27":"3","30":"2","31":"3"},"2":{"2":"2","3":"1","4":"3","11":"2","12":"3","24":"1","25":"1"},"3":{"3":"2","4":"3","9":"2","10":"1","11":"3","30":"2","31":"1"},"4":{"1":"1","2":"3","13":"2","14":"1","15":"3","17":"2","18":"1","19":"1","20":"1","21":"3","26":"2","27":"1","28":"1","29":"1","30":"1"},"5":{"1":"1","2":"1","3":"1","4":"1","5":"1","6":"1","7":"1","8":"1","9":"1","10":"1","11":"1","12":"3","14":"2","15":"1","16":"1","17":"1","18":"1","19":"1","20":"1","21":"1","22":"1","23":"1","24":"1","25":"1","26":"1","27":"3","28":"default","29":"default","30":"2","31":"1"},"6":{"1":"1","2":"1","3":"1","4":"1","5":"3","6":"default","7":"default","8":"default","9":"default","10":"default","11":"default","12":"default","13":"default","14":"2","15":"1","16":"1","17":"1","18":"1","19":"1","20":"1","21":"1","22":"1","23":"1","24":"3","25":"default","26":"default"},"7":{"7":"2","8":"3","13":"2","14":"1","15":"3","17":"2","18":"1","19":"1","20":"1","21":"1","22":"3","27":"2","28":"1","29":"1","30":"1","31":"1"},"8":{"1":"1","2":"1","3":"1","4":"1","5":"1","6":"1","7":"1","8":"1","9":"1","10":"1","11":"1","12":"1","13":"1","14":"3","24":"2","25":"1","26":"3","30":"2","31":"1"},"9":{"1":"3","2":"2","3":"3","6":"2","7":"1","8":"1","9":"1","10":"3","14":"2","15":"3","23":"2","24":"1","25":"3","27":"default","28":"2","29":"1","30":"3"},"10":{"9":"2","10":"1","11":"3","13":"2","14":"3","17":"1","18":"1","19":"1","20":"1","21":"default"},"11":{"16":"2","17":"1","18":"1","19":"3","23":"2","24":"1","25":"3"},"12":{"13":"2","14":"1","15":"1","16":"3","24":"2","25":"1","26":"1","27":"1","28":"1","29":"1","30":"1","31":"3"}},"2019":{"1":{"1":"1","2":"1","3":"1","4":"1","5":"1","6":"1","7":"1","8":"1","9":"1","10":"1","11":"1","12":"1","13":"1","14":"1","15":"1","16":"1","17":"1","18":"1","19":"1","20":"1","21":"1","22":"1","23":"1","24":"1","25":"1","26":"1","27":"1","28":"1","29":"1","30":"1","31":"1"},"2":{"1":"1","2":"1","3":"1","4":"1","5":"1","6":"1","7":"1","8":"1","9":"1","10":"1","11":"1","12":"1","13":"1","14":"1","15":"1","16":"1","17":"1","18":"1","19":"1","20":"1","21":"1","22":"1","23":"1","24":"1","25":"1","26":"1","27":"1","28":"1"},"3":{"1":"1","2":"1","3":"1","4":"1","5":"1","6":"1","7":"1","8":"1","9":"1","10":"1","11":"1","12":"1","13":"1","14":"1","15":"1","16":"1","17":"1","18":"1","19":"1","20":"1","21":"1","22":"1","23":"1","24":"1","25":"1","26":"1","27":"1","28":"1","29":"1","30":"1","31":"1"},"4":{"1":"1","2":"1","3":"1","4":"1","5":"1","6":"1","7":"1","8":"1","9":"1","10":"1","11":"1","12":"1","13":"1","14":"1","15":"1","16":"1","17":"1","18":"1","19":"1","20":"1","21":"1","22":"1","23":"1","24":"1","25":"1","26":"1","27":"1","28":"1","29":"1","30":"1"},"5":{"1":"1","2":"1","3":"1","4":"1","5":"1","6":"1","7":"1","8":"1","9":"1","10":"1","11":"1","12":"1","13":"1","14":"1","15":"1","16":"1","17":"1","18":"1","19":"1","20":"1","21":"1","22":"1","23":"1","24":"1","25":"1","26":"1","27":"1","28":"1","29":"1","30":"1","31":"1"},"6":{"1":"1","2":"1","3":"1","4":"1","5":"1","6":"1","7":"1","8":"1","9":"1","10":"1","11":"1","12":"1","13":"1","14":"1","15":"1","16":"1","17":"1","18":"1","19":"1","20":"1","21":"1","22":"1","23":"1","24":"1","25":"1","26":"1","27":"1","28":"1","29":"1","30":"1"},"7":{"1":"1","2":"1","3":"1","4":"1","5":"1","6":"1","7":"1","8":"1","9":"1","10":"1","11":"1","12":"1","13":"1","14":"1","15":"1","16":"1","17":"1","18":"1","19":"1","20":"1","21":"1","22":"1","23":"1","24":"1","25":"1","26":"1","27":"1","28":"1","29":"1","30":"1","31":"1"},"8":{"1":"1","2":"1","3":"1","4":"1","5":"1","6":"1","7":"1","8":"1","9":"1","10":"1","11":"1","12":"1","13":"1","14":"1","15":"1","16":"1","17":"1","18":"1","19":"1","20":"1","21":"1","22":"1","23":"1","24":"1","25":"1","26":"1","27":"1","28":"1","29":"1","30":"1","31":"1"},"9":{"3":"2","4":"3","14":"2","15":"3","20":"2","21":"1","22":"3"},"10":{"4":"2","5":"1","6":"3","10":"2","11":"3","15":"default","16":"default","17":"2","18":"1","19":"1","20":"1","21":"3","25":"2","26":"1","27":"3"},"11":{"1":"2","2":"1","3":"3","8":"2","9":"1","10":"1","11":"3","15":"default","16":"2","17":"3","18":"default","19":"2","20":"1","21":"1","22":"3","25":"default","26":"2","27":"1","28":"1","29":"1","30":"1"},"12":{"1":"1","2":"1","3":"1","4":"1","5":"3","6":"2","7":"1","8":"1","9":"1","10":"1","11":"3","13":"2","14":"1","15":"1","16":"1","17":"1","18":"1","19":"3","20":"1","21":"1","22":"1","23":"1","24":"2","25":"3","26":"2","27":"1","28":"1","29":"1","30":"3","31":"2"}},"2020":{"1":{"1":"1","2":"1","3":"1","4":"3","5":"2","6":"1","7":"1","8":"1","9":"3","12":"2","13":"1","14":"1","15":"1","16":"3","19":"2","20":"1","21":"1","22":"1","23":"3","26":"2","27":"1","28":"1","29":"1","30":"3","31":"2","description-31":"","description-26":"","description-27":"","description-28":"","description-29":"","description-30":"","description-19":"","description-20":"","description-21":"","description-22":"","description-23":"","description-12":"","description-13":"","description-14":"","description-15":"","description-16":"","description-5":"","description-6":"","description-7":"","description-8":"","description-9":"","description-1":"","description-2":"","description-3":"","description-4":""},"2":{"1":"3","2":"2","3":"1","4":"1","5":"1","6":"3","13":"2","14":"1","15":"1","16":"1","17":"1","18":"1","19":"1","20":"3","23":"2","24":"1","25":"1","26":"1","27":"3","description-23":"","description-24":"","description-25":"","description-26":"","description-27":"","description-20":"","description-19":"","description-18":"","description-17":"","description-16":"","description-13":"","description-14":"","description-15":"","description-2":"","description-3":"","description-4":"","description-5":"","description-6":"","description-1":""},"3":{"1":"2","2":"3","3":"2","4":"1","5":"1","6":"3","8":"2","9":"1","10":"1","11":"1","12":"3","15":"2","16":"1","17":"1","18":"1","19":"3","20":"default","21":"default","22":"2","23":"1","24":"1","25":"1","26":"3","28":"default","29":"default","30":"2","31":"1","description-1":"A","description-2":"A","description-3":"A","description-4":"A","description-5":"A","description-8":"A","description-9":"A","description-10":"A","description-11":"A","description-12":"A","description-15":"A","description-16":"A","description-17":"A","description-18":"A","description-19":"A","description-22":"A","description-23":"A","description-24":"A","description-25":"A","description-26":"A","description-30":"A","description-31":"A","description-28":"","description-29":"","description-6":"A"},"4":{"1":"1","2":"3","4":"default","5":"default","6":"2","7":"1","8":"1","9":"3","14":"2","15":"1","16":"3","18":"default","19":"default","20":"2","21":"1","22":"1","23":"3","28":"2","29":"1","30":"3","description-1":"A","description-2":"A","description-6":"A","description-7":"A","description-8":"A","description-9":"A","description-14":"A","description-15":"A","description-16":"A","description-12":"","description-13":"","description-20":"A","description-21":"A","description-22":"A","description-23":"A","description-27":"Kon.dag","description-28":"A","description-29":"A","description-30":"A","description-18":"","description-19":""},"5":{"2":"default","3":"2","4":"3","6":"2","7":"3","11":"2","12":"1","13":"1","14":"3","18":"2","19":"1","20":"3","21":"2","22":"1","23":"1","24":"3","25":"2","26":"1","27":"1","28":"3","30":"default","31":"1","description-5":"Bevrijdingsdag","description-6":"A","description-7":"A","description-11":"A","description-12":"A","description-13":"A","description-14":"A","description-21":"P Hemelvaart","description-18":"A","description-19":"A","description-20":"A","description-25":"A","description-26":"A","description-27":"A","description-28":"A","description-31":"An 1e pink","description-22":"P","description-23":"P","description-24":"P","description-3":"A","description-4":"A","description-30":""},"6":{"1":"1","2":"1","3":"1","4":"3","5":"2","6":"3","7":"default","8":"2","9":"1","10":"1","11":"3","15":"2","16":"1","17":"1","18":"3","19":"default","20":"2","21":"3","22":"2","23":"1","24":"1","25":"3","26":"2","27":"1","28":"3","29":"2","30":"1","description-1":"An 2e pink.","description-2":"An/A","description-3":"A","description-4":"A","description-5":"","description-6":"","description-7":"","description-8":"A","description-9":"A","description-10":"A","description-11":"A","description-15":"A","description-16":"A","description-17":"A","description-18":"A","description-19":"","description-22":"A","description-23":"A","description-24":"A","description-25":"A","description-27":"E/S","description-28":"S","description-29":"A","description-30":"A","description-26":"E","description-20":"L","description-21":"L"},"7":{"1":"1","2":"1","3":"1","4":"1","5":"1","6":"1","7":"1","8":"1","9":"1","10":"1","11":"1","12":"3","14":"2","15":"1","16":"1","17":"3","20":"2","21":"1","22":"1","23":"1","24":"1","25":"1","26":"1","27":"1","28":"1","29":"1","30":"1","31":"1","description-1":"A","description-2":"A","description-6":"A","description-7":"A","description-8":"A","description-9":"A","description-14":"M","description-15":"M","description-16":"M","description-17":"M","description-3":"MH","description-4":"MH","description-5":"MH","description-10":"S","description-11":"S","description-12":"S","description-20":"W","description-21":"W"},"8":{"1":"1","2":"1","3":"1","4":"1","5":"1","6":"1","7":"1","8":"1","9":"1","10":"1","11":"1","12":"1","13":"1","14":"1","15":"1","16":"1","17":"1","18":"1","19":"1","20":"1","21":"1","22":"1","23":"1","24":"1","25":"1","26":"1","27":"1","28":"1","29":"1","30":"1","31":"1","description-3":"A","description-4":"A","description-5":"A","description-6":"A","description-10":"A","description-11":"A","description-12":"A","description-13":"A/P","description-17":"P/A","description-18":"A","description-19":"A","description-20":"A/K","description-24":"A","description-25":"A","description-26":"A","description-27":"A/J","description-31":"J/A","description-7":"","description-8":"","description-9":"","description-14":"P","description-15":"P","description-16":"P","description-28":"J","description-21":"K","description-22":"S","description-23":"S","description-29":"J","description-30":"J"},"9":{"1":"1","2":"1","3":"1","4":"1","5":"1","6":"1","7":"1","8":"1","9":"1","10":"1","11":"1","12":"1","13":"1","14":"1","15":"1","16":"1","17":"1","18":"1","19":"1","20":"1","21":"1","22":"1","23":"1","24":"1","25":"1","26":"1","27":"1","28":"1","29":"1","30":"1","description-1":"A","description-2":"A","description-3":"A","description-7":"A/M","description-8":"A","description-9":"A","description-10":"A","description-12":"R","description-13":"R","description-14":"R","description-15":"A / R","description-16":"A","description-17":"","description-21":"S","description-22":"S/Sc","description-23":"Sc","description-24":"Sc","description-28":"CF","description-29":"CF","description-30":"CF","description-18":"S","description-19":"S","description-20":"S","description-11":"R","description-5":"M","description-6":"M","description-25":"Sc/CF","description-26":"CF","description-27":"CF"},"10":{"1":"1","2":"1","3":"1","4":"1","5":"1","6":"1","7":"1","8":"1","9":"1","10":"1","11":"1","12":"1","13":"1","14":"1","15":"1","16":"1","17":"1","18":"1","19":"1","20":"1","21":"1","22":"1","23":"default","24":"default","25":"default","26":"default","27":"1","28":"1","29":"1","30":"default","31":"2","description-11":"Ri","description-12":"CF","description-13":"CF","description-10":"Ri","description-9":"","description-30":"","description-31":"","description-1":"","description-2":"","description-3":"","description-4":"","description-23":"","description-24":"","description-25":"","description-26":"","description-27":"","description-28":"","description-29":"","description-5":"","description-6":"","description-7":"","description-16":"CF/E","description-17":"E","description-18":"E","description-19":"E/F","description-20":"F","description-21":"F","description-22":"F","description-8":"","description-14":"CF","description-15":"CF"},"11":{"1":"1","2":"3","27":"default","28":"default","description-1":"","description-27":"","description-28":""},"12":{"8":"2","9":"1","10":"1","11":"1","12":"1","13":"1","14":"3","18":"2","19":"1","20":"1","21":"1","22":"1","23":"1","24":"1","25":"1","26":"1","27":"1","28":"3","31":"2","description-18":"G","description-19":"G","description-20":"G","description-10":"R/M","description-11":"M","description-12":"M","description-13":"M","description-14":"M","description-21":"E","description-22":"E","description-23":"E","description-24":"E/F","description-27":"F/G","description-28":"G","description-25":"F","description-26":"F","description-9":"R","description-8":"R","description-31":"T"}},"2021":{"1":{"1":"3","2":"default","17":"2","18":"3","22":"default","23":"default","26":"2","27":"3","description-1":"","description-2":"","description-22":"","description-23":"","description-17":"","description-18":"","description-26":"","description-27":""},"2":{"6":"2","7":"3","14":"2","15":"3","20":"2","21":"3","23":"2","24":"3","26":"2","27":"3","description-6":"","description-7":"","description-14":"","description-15":"","description-26":"","description-27":"","description-20":"","description-21":"","description-23":"","description-24":""},"3":{"2":"default","3":"default","9":"default","10":"default","18":"default","19":"default","20":"default","21":"default","27":"2","28":"1","29":"1","30":"3","description-2":"","description-3":""},"4":{"2":"2","3":"1","4":"1","5":"3","16":"default","17":"default","18":"default","19":"default","20":"default","21":"default","25":"default","26":"2","27":"3","28":"default","30":"2","description-30":"","description-16":"","description-17":"","description-18":"","description-19":"","description-20":"","description-21":"","description-25":"","description-26":"","description-27":"","description-28":""},"5":{"1":"1","2":"1","3":"1","4":"1","5":"1","6":"1","7":"1","8":"1","9":"1","10":"1","11":"1","12":"1","13":"1","14":"1","15":"1","16":"1","17":"default","18":"default","19":"default","20":"default","21":"default","22":"default","23":"default","24":"2","25":"1","26":"1","27":"1","28":"1","29":"1","30":"1","31":"1","description-13":"","description-14":"","description-15":"","description-20":"","description-21":"","description-22":"","description-1":"","description-2":"","description-3":"","description-4":"","description-5":"","description-6":"","description-7":"","description-8":"","description-9":"","description-10":"","description-25":"","description-26":"","description-27":"","description-28":"","description-19":"","description-16":"","description-17":"","description-18":"","description-23":"","description-24":""},"6":{"1":"1","2":"1","3":"1","4":"1","5":"1","6":"1","7":"1","8":"1","9":"1","10":"1","11":"1","12":"1","13":"1","14":"1","15":"1","16":"1","17":"1","18":"1","19":"1","20":"1","21":"3"},"7":{"8":"2","9":"1","10":"1","11":"1","12":"3","15":"default","16":"default","17":"default","18":"default","19":"default","20":"default","21":"default","22":"default","23":"default","24":"default","25":"default","26":"default","27":"default","28":"default","29":"2","30":"1","31":"1","description-17":"","description-18":"","description-19":"","description-20":"","description-21":"","description-22":"","description-23":"","description-24":"","description-29":"","description-30":""},"8":{"1":"1","2":"1","3":"1","4":"1","5":"1","6":"1","7":"1","8":"1","9":"1","10":"1","11":"1","12":"1","13":"1","14":"1","15":"1","16":"1","17":"1","18":"1","19":"1","20":"1","21":"1","22":"1","23":"1","24":"1","25":"1","26":"1","27":"1","28":"1","29":"1","30":"1","31":"1"},"9":{"1":"2","2":"1","3":"1","4":"1","5":"1","6":"1","7":"1","8":"1","9":"1","10":"1","11":"3"}}}
{"default":{"name":{"default":"Available","hr":"Slobodno","cs":"Volno","da":"Ledigt","nl":"Vrij","en":"Available","fr":"Libre","de":"Frei","hu":"Szabad","it":"Libero","ro":"Disponobil","ru":"\u0414\u043e\u0441\u0442\u0443\u043f\u043d\u043e","sk":"Vo\u013en\u00fd","es":"Libre","sv":"Ledigt","uk":"B\u0456\u043b\u044c\u043d\u043e","no":""},"color":"#DDFFCC","splitColor":false,"bookable":"yes","auto-pending":"no"},"1":{"name":{"default":"Booked","hr":"Zauzeto","cs":"Obsazeno","da":"Booket","nl":"Bezet","en":"Booked","fr":"Occup\u00e9","de":"Belegt","hu":"Foglalt","it":"Prenotato","ro":"Rezervat","ru":"\u0417\u0430\u043d\u044f\u0442\u043e","sk":"Obsaden\u00fd","es":"Reservado","sv":"Bokat","uk":"\u0417\u0430\u0439\u043d\u044f\u0442\u043e","no":""},"color":"#FFC0BD","splitColor":false,"bookable":false,"auto-pending":"yes"},"2":{"name":{"en":"Inchecken 16 uur","nl":"Inchecken 16 uur","et":"","fi":"","fr":"","de":"Inchecken 16 uur","pt":"","ro":"","default":"Changeover 1"},"color":"#DDFFCC","splitColor":"#FFC0BD","bookable":"yes","hide":false,"auto-pending":"no"},"3":{"name":{"en":"Vertrektijd 11 uur","nl":"Vertrektijd 11 uur","et":"","fi":"","fr":"","de":"Vertrektijd 11 uur","pt":"","ro":"","default":"Changeover 2"},"color":"#FFC0BD","splitColor":"#DDFFCC","bookable":"yes","hide":false,"auto-pending":"no"},"4":{"name":{"en":null,"nl":null,"default":null},"color":null,"splitColor":false,"bookable":false}}
2
nl
3
7
1
1
multiple
yes
yes